Services for Furniture Removal in Toronto
1-888-I AM JUNK is proud to provide cost-effective furniture removal and furniture disposal services in Toronto and the Greater Toronto Area. No job is too big or too small for our team of trained junk removal specialists. As part of the many jobs we are willing to tackle, furniture removal is something our professional team can handle, no matter the size or nature the task at hand. No matter whether you are in or around the GTA, we will take care of your furniture with the same attention to detail we provide for all of our removal projects.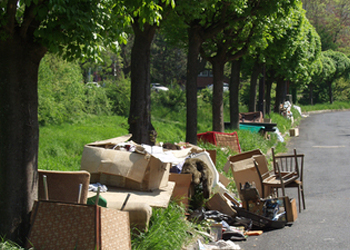 We do all the Lifting, Hauling and Loading
1-888-I AM JUNK is pleased to be available to you 24/7 along with providing assistance for last minute or same-day furniture removal in Toronto and the GTA. A positive attitude and customer service is something we take seriously and as such we are ready to assist in removing unwanted furniture anywhere and as fast as possible. We even take care of the clean up to ensure your living or work space is left absolutely spotless. For companies that are moving or renovating their premises, we equally specialize in office furniture removal and complete office clean outs. Our professionals will happily manage your office furniture removal and disposal. If you are a property manager stuck with furniture from past tenants, call 1-888-I AM JUNK. We'll take care of the furniture removal, so you can focus on more important tasks (like renting out the space for example).
Are You Moving?
Are you replacing your living room furniture or bedroom suite? Are you selling your big house in the suburbs, moving to a condo in the city and need to downsize and get rid of clunky furniture? If this sounds like you, call 1-888-I AM JUNK and we'll take care of the disposal of your furniture. Since environmental stability is something we value as well, our workers will go the extra mile to ensure your old furniture is recycled or reused in the best ways possible.
Need Assistance With Any Other Junk Removal?
Feel free to browse through the many services we have listed here. 1-888-I AM JUNK handles furniture disposal and appliance removal throughout the GTA but as mentioned those are certainly not the only tasks we are able to handle.
Contact us at 1-888-I AM JUNK or book online and we shall happily assist you with your Furniture Removal as soon as we can!
I AM JUNK REMOVAL WAY:
Guaranteed best prices 30% to 50% less than our competitor Uniformed, trained and licensed junk removal professionals executing safe and thorough clearance. We arrive on time, ready to do all the lifting, loading, hauling and disposal. Our services are available in the GTA, Brampton, Mississauga, North York, Richmond Hill, Markham &
other areas.
We'll pickup almost anything and offer
1/6
,
1/4
,
1/2
,
3/4
and
full truck
load prices. We can provide junk disposal, waste removal, furniture disposal, appliances removal, construction materials pick up, trash removal & more. We do all the loading wherever the job may be.