Junk Removal in Richmond Hill & King City
Richmond Hill has a lot of offer. But it can be hard to appreciate the city you live in when your front yard is loaded with junk. Every household produces junk at some point. But sometimes, you might find you're buried under so much excess stuff that it's hard for you to enjoy your own home. Plus, it doesn't add a lot of curb appeal to your home. And it can make it difficult for you to even begin to plan to move, sell the home, or even invite people over to your home, regardless of what kind of junk it is.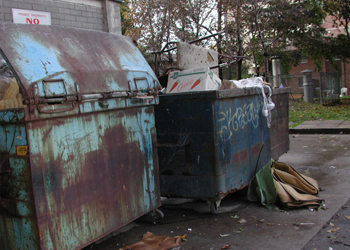 Junk Needs to be Junked
Scrap metal, lumber, and yard debris can litter your yard, making your home look off-putting from the front.Old appliances and furniture are often stuffed into the garage, unable to be sold or donated. Items that your garbage collector won't take may sit on the side of the house, collecting rust and taking up space. Many people resort to a storage unit but that's just collecting more junk instead of dealing with the problem at hand. To effectively deal with junk, the best thing to do is to junk it. But it's not a problem you have to deal with on your own.
Our Services
At 1-888-I-AM-JUNK, we are highly regarded as one of the best junk removal services in Richmond Hill. Not only do we haul your junk away but we sort it, load it, and process it too. Many other companies expect you to sort through your stuff and set it on the curb. We go above and beyond. We know that not everyone can handle all the rubbish they need taken away. That's why we're happy to help take the burden off your hands. Our large trucks – larger than most in the business – ensure fewer trips, fewer vehicles on the road, and help save you money in the end.
While you can handle moving rubbish on your own, not everyone has the time or the ability to do so. If you're looking at this page, chances are that you need a little help. We're a service that works with you. You'll be able to schedule our services for when it works with your daily routine. Whether that's on the weekends or on odd-hours, we'll work with you to make sure that we're working when it's easy and convenient for you. Figuring out what works for you is our goal.
Breathing Easier
Our junk removal services are designed to help you breathe easier. We handle the heavy lifting and we ensure that your junk is recycled, processed and taken care of with the proper equipment and handling. You don't have to figure out how to haul stuff in your sedan or try to convince your garbage man to haul away junk for you any longer. Our services are ideal for any situation. Breathe a little easier with one of the best junk removal services in Richmond Hill. You'll be glad you made the call.
I AM JUNK REMOVAL WAY:
Guaranteed best prices 30% to 50% less than our competitor Uniformed, trained and licensed junk removal professionals executing safe and thorough clearance. We arrive on time, ready to do all the lifting, loading, hauling and disposal. Our services are available in the GTA, Brampton, Mississauga, North York, Richmond Hill, Markham &
other areas.
We'll pickup almost anything and offer
1/6
,
1/4
,
1/2
,
3/4
and
full truck
load prices. We can provide junk disposal, waste removal, furniture disposal, appliances removal, construction materials pick up, trash removal & more. We do all the loading wherever the job may be.