Junk Removal You Can Trust in Markham
When you live in Markham, it's simple. No matter who you are, everyone accumulates yard waste or items they simply don't need anymore. It can be difficult and inconvenient to handle removing junk from your yard or home. Our team at 1-888-I Am Junk is dedicated to helping you rid your home of junk or unnecessary items in the most convenient and stress-free way possible.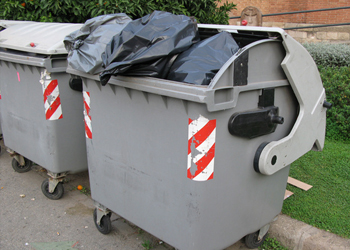 We're Efficient
In fact, we're some of the most efficient in the business. Our trucks are some of the biggest around, meaning fewer vehicles are required to haul away your junk – and that means lower prices for you. We work fast and efficiently to clear your yard.
And we get it. Your schedule gets away from you. That's why we offer you the ability to schedule our services for whenever it's convenient for you. Whether it's during the 9-5 time-frame or whether it's off-hour service or on the weekend, we'll work with you and schedule the time works best for you depending on your needs.
We do the work for you. No need to run around picking up debris. We'll haul away yard debris, scrap metal, furniture, appliances and more. Often, many homeowners have trouble figuring out to do with larger items or excessive amounts of junk. They may not have the vehicles required to haul away large quantities of items or the time to clear everything out. You may simply be overwhelmed or be unable to haul anything away on your own. No matter your circumstances, we take care of it for you.
Helping the Environment
We're also dedicated to keeping Markham green. When we haul away your junk, we try to minimize whatever ends up in the landfill. Our large, efficient trucks certainly don't hurt either. We recycle whatever materials we can and dispose of all materials in an environmentally friendly way.
Helping You Breathe Easier
When you look into junk removal services, you'll be glad you did. Maybe you need to sort through a garage or your attic is stuffed with old holiday decorations you don't enjoy or use anymore. If a loved one dies, you'll often have to deal with the overwhelming process of sorting through their home and belongings. Maybe you're simply looking to deal with materials left over after a repair or yard project. Whatever the reasons, you simply have too much stuff to deal with on your own. We help take care of it for you, helping you breathe easier in the end.
We cover both residential addresses and businesses. Have an office you need to clear out? We can help. Anywhere you need junk hauled from, we can help you out. Junk should never rule your life. We take junk off your hands. No more stress or worry for you. Our services are efficient, quick, and convenient for you. Trust 1-888-I Am Junk to deal with the junk for you. I Am Junk is the service Markham relies on to clear out the junk and baggage from the neighborhood.
I AM JUNK REMOVAL WAY:
Guaranteed best prices 30% to 50% less than our competitor Uniformed, trained and licensed junk removal professionals executing safe and thorough clearance. We arrive on time, ready to do all the lifting, loading, hauling and disposal. Our services are available in the GTA, Brampton, Mississauga, North York, Richmond Hill, Markham &
other areas.
We'll pickup almost anything and offer
1/6
,
1/4
,
1/2
,
3/4
and
full truck
load prices. We can provide junk disposal, waste removal, furniture disposal, appliances removal, construction materials pick up, trash removal & more. We do all the loading wherever the job may be.