Toronto's Top Choice of Junk Removal
Junk can accumulate more quickly than we realize. It goes beyond a garbage bag here and there. There are times when homeowners or businesses in Toronto find themselves with a lot of junk that they can't get rid of by normal means. There could be a number of reasons why you have huge loads of unwanted items. Whatever the case may be, I AM JUNK will help you solve your problem.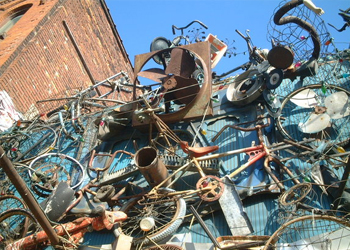 Residential Services
Whether you're in the process of moving, trying to sell your current home, or doing spring cleaning, you'll need to get rid of all the clutter. Perhaps you are stuck with mattresses or furniture you don't need due to renovation. Or maybe you are redoing your floor and need to get rid of old carpet. If you've just purchased an older house, the attic or basement might be filled with old junk that nobody wants.
None of this stuff is going away on its own. You can't just throw it all out in garbage bags, either. Some of the junk may even be unsanitary, so it's in your best interest to get rid of it ASAP.
Commercial Junk Removal
In a business, productivity is increased when everyone works in a clean environment.
We offer a stress-free solution for getting rid of old equipment, office furniture, paper, old files, and random junk from businesses. Whether you simply need a storage unit cleaned out or have a large volume of junk you need to get rid of, let us help you.
You can also schedule for regular cleanups at one location or several.
Property Management
If you own an apartment complex or rent a home out to tenants, there will come times when you have to clean up after your tenants' messes. If they have to leave for any reason, they might leave any number of items behind. It's important that all of the junk be cleared out as soon as possible so that you can begin showing the property off to potential new tenants.
You might not have time to go through all the stuff previous tenants leave behind. Even if you do, you probably won't be able to sell it all. It's too much of a hassle to deal with. With 1-888-I AM JUNK services in Toronto, you can have it all cleared out and hauled away.
Our Equipment
For clearing out your unwanted junk, we use everything from brooms to wheelbarrows. We even bring along tool kits for the dismantling and removal of items such as doors and furniture. You don't even have to pack the items up or take them out to the curb – we do it all.
Get Junk Removal Services from an Insured Company
I AM JUNK is fully insured and licensed by the Ministry of the Environment. We are available 24/7, including weekends, and offer same day service for junk removal in Toronto and surrounding areas. Call or fill out the contact form today for a free estimate; there is no load too big or too small for us to handle.
I AM JUNK REMOVAL WAY:
Guaranteed best prices 30% to 50% less than our competitor Uniformed, trained and licensed junk removal professionals executing safe and thorough clearance. We arrive on time, ready to do all the lifting, loading, hauling and disposal. Our services are available in the GTA, Brampton, Mississauga, North York, Richmond Hill, Markham &
other areas.
We'll pickup almost anything and offer 1/6, 1/4, 1/2, 3/4 and full truck load prices. We can provide junk disposal, waste removal, furniture disposal, appliances removal, construction materials pick up, trash removal & more. We do all the loading wherever the job may be.