Junk Removal Bolton
Unwanted items take up too much space and make any area look crowded. This is true for not only the inside of a home or office in Bolton, but the outside as well. It's hard to enjoy living space when there are unwanted everywhere. While it's possible to store some of it, you're going to run out of room eventually. This is where companies like 1-888-I AM JUNK come in. We make junk removal a hassle-free process and are available 24/7.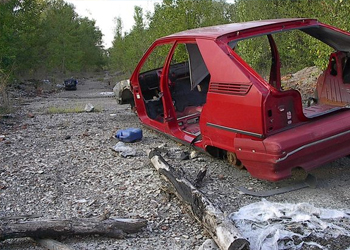 Cluttered Garages and Attics
Even hoarders have to admit that sometimes enough is enough. At some point, storage space is going to run out. Garages and attics become overly crowded for a number of reasons. Maybe you tried having a garage sale but nobody showed up. Perhaps the attic is stuffed with generation after generation of storage boxes and junk piles that have no value. It can take what seems like forever to sort through them and to decide where to take them. If you give us a call, we will sort through everything for you and clear everything out at a low cost.
Yard Waste Disposal
Garbage collectors don't usually pick up yard waste. If you have too much junk on your lawn or porch following landscape renovation, pool installation, yard maintenance work, etc…, you're not going to enjoy your new yard or pool. The street view of your yard won't look appealing, either. How can you show off your landscape to your neighbours if there is too much waste on the property?
Not only can you count on us to remove the debris from your property, you can also trust us to dispose of it in an eco-friendly manner.
Clearing Out Offices
It doesn't matter what type of business you run in Bolton, or how big or small your office is, there will come a time when you need to update or replace equipment. Maybe it's an old, obsolete computer from 15 years ago, or a broken printer or fax machine. To save cabinet space, many offices need to throw out old, unimportant folders. Some office equipment, such as old, heavy monitors, are not easy for companies to dispose of. Let I AM JUNK come in and take all of the old equipment out, as well as any other supplies or materials you no longer need.
There is nothing like having a nice, clutter-free office with new equipment.
No Need for DIY
While you certainly may be able to remove some junk by yourself, what about larger loads? Certain items have to be handled in a specific way. Not only do they need to be handled properly, they must also be disposed of properly. You could end up spending a lot more money and wasting a lot more time if you turn junk removal and recycling into a DIY project. There's a chance you won't be successful.
With I AM JUNK, everything is handled by licensed and insured professionals. We can remove just about everything except for hazardous waste material. If you are in Bolton or a nearby area, contact us for free right now and we will give you a base estimate!
I AM JUNK REMOVAL WAY:
Guaranteed best prices 30% to 50% less than our competitor Uniformed, trained and licensed junk removal professionals executing safe and thorough clearance. We arrive on time, ready to do all the lifting, loading, hauling and disposal. Our services are available in the GTA, Brampton, Mississauga, North York, Richmond Hill, Markham &
other areas.
We'll pickup almost anything and offer
1/6
,
1/4
,
1/2
,
3/4
and
full truck
load prices. We can provide junk disposal, waste removal, furniture disposal, appliances removal, construction materials pick up, trash removal & more. We do all the loading wherever the job may be.