Keeping Maple Clean with Junk Removal Services
Neighborhoods with junky yards aren't very welcoming. Businesses with too much clutter are not nice to work at. I AM JUNK understands the importance of having clean homes and businesses, both on the inside and out. Junk removal experts have the tools and equipment necessary for clearing out junk, old furniture, debris, waste, and many other miscellaneous items.
Home Improvement
Home remodeling projects can be a lot of fun, whether you're just fixing up one room or the entire house. You get to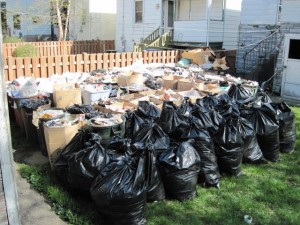 change the flooring, walls, furniture, decor, etc. You can also do a bit of maintenance and repair work here and there.
But what do you do with all of the old stuff? If you're replacing carpet with hardwood flooring, what do you do with the carpet? What if you order too much material and don't have use for it all? This is where we come in. We are experienced at cleaning up remodeling and renovation projects, no matter how large. It won't take very long at all to clear out all of the junk and old furniture, and you'll find yourself enjoying your beautiful new clutter-free surroundings.
Helping Small Businesses
Small business owners already have enough to deal with as it is. They don't have the time to sort out the useful items from the junk items. Office equipment and electronics often need replacing. In busy offices, clutter can be a problem: stacks of paper get piled up, folders become disarrayed, file cabinets are filled with junk, and unsold inventory can take up valuable space in your storage.
If you are trying to run a small business and experience these problems, just contact I AM JUNK and we will get rid of the clutter and take old, unwanted items off your hands.
Yard Waste Removal
If you want to include yard work in your home remodeling project, you need to have a plan to get rid of the waste and junk. A great deal of debris can accumulate from landscaping projects, trimming trees, pruning hedges, renovating the porch, etc.
We offer same or next day yard waste removal. Our experts are trained to prevent damaging valuable outdoor items, including your vehicle.
After you get all of the junk out of the way, you can see how beautifully your landscaping project turned out.
Socially Responsible Services
Many people are concerned about where their stuff will end up when hiring a junk removal company. Will it all be dumped at a landfill somewhere or will it be sorted out and disposed of properly?
Not all trash has to go to waste.
You'll be glad to know that there really are eco-friendly junk removal solutions. If you work with our team, you can trust that we will make every effort to avoid dumping your stuff in landfills. We will sort through your junk for you if you do not have the time to do so, and look for items that can be recycled or donated.
As mentioned above, we offer same or next day services. Just call I AM JUNK or contact us online, and we will bring our junk removal services to your Maple home or place of business.
I AM JUNK REMOVAL WAY:
Guaranteed best prices 30% to 50% less than our competitor Uniformed, trained and licensed junk removal professionals executing safe and thorough clearance. We arrive on time, ready to do all the lifting, loading, hauling and disposal. Our services are available in the GTA, Brampton, Mississauga, North York, Richmond Hill, Markham &
other areas.
We'll pickup almost anything and offer
1/6
,
1/4
,
1/2
,
3/4
and
full truck
load prices. We can provide junk disposal, waste removal, furniture disposal, appliances removal, construction materials pick up, trash removal & more. We do all the loading wherever the job may be.