Residential Junk Removal in Toronto
A Junk-Free Home Is a happy home! Whether its spring cleaning time, or just before the Holidays, few things can lift you spirits like a clutter-free home. At 1-888-I AM JUNK, we are here to help.
Call 1-888-I AM JUNK, show us the junk, sit back and relax. Now, that's house cleaning made simple!
Whether your garage is a disaster, your basement's a junk room or your yard is a junkyard full of construction materials from a renovation job, we can put it right in record time.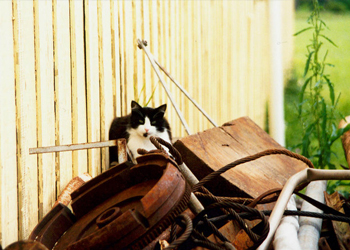 We'll even sort your junk, recycle everything we can, thus minimizing what we dump in landfills. Imagine the peace of mind you'll feel, knowing you have de-cluttered your home, and done your part for the environment. You heard correctly, we provide among the most eco-friendly services in the way of residential junk removal in Toronto and the GTA, so if you want to ensure that most of your possessions get recycled, you have come to the right place. On top of that, our "Lowest-Price Guarantee" makes our service as cost-effective as they are efficient. Last but certainly not least, we respect your home and clean up after ourselves.
Selling your House?
Selling the family home and moving are among life's biggest stresses. 1-888-I AM-JUNK can help by taking care of your after-moving chores. The new owners will expect you to remove the stuff you leave behind – finally freeing yourself of the clutter of years gone by. We can dump that junk for you and our "Lowest-Price Guarantee" ensures that you won't pay too much to have the job done right.
Garage Sale Aftermath?
So, you had a garage sale and sold a lot of stuff that's been cluttering up your life? Good for you! Your sale was a success, but you didn't sell everything. Now what? All that leftover stuff really is junk now . . . and the garbage man won't take it. Help is on the way! Call 1-888-I AM JUNK right now. We'll be with you as fast as we can and haul away the dregs of your sale. We'll do it fast, with our team of friendly and professional employees in. We equally use some of the largest trucks among the many businesses that deal with residential junk removal in Toronto. The BIG truck keeps your cost down by helping us haul junk economically. We'll even guarantee a job-well-done at the best price without "Lowest-Price Guarantee".
What are you waiting for? Call now to book us for your residential junk removal needs in and around the GTA.
I AM JUNK REMOVAL WAY:
Guaranteed best prices 30% to 50% less than our competitor Uniformed, trained and licensed junk removal professionals executing safe and thorough clearance. We arrive on time, ready to do all the lifting, loading, hauling and disposal. Our services are available in the GTA, Brampton, Mississauga, North York, Richmond Hill, Markham &
other areas.
We'll pickup almost anything and offer
1/6
,
1/4
,
1/2
,
3/4
and
full truck
load prices. We can provide junk disposal, waste removal, furniture disposal, appliances removal, construction materials pick up, trash removal & more. We do all the loading wherever the job may be.