Garbage Removal in Toronto and the GTA
Do you live in or around Toronto and are you in need of assistance for garbage removal and disposal? 1-888-I AM JUNK is here to help. We charge as much as 30%-50% less for garbage removal and garbage disposal than our competitors in the Greater Toronto Area.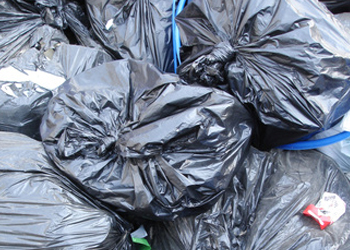 How do we do this?
Compare our rates on garbage removal in Toronto and Great Toronto Area. It's easy – just view our price list, then call our competition. You'll pay an average of 50% less with our bigger trucks. We charge by the volume, the amount of space your garbage takes up in our trucks. Once our team arrives, you just point to the garbage that needs to be disposed and we do the rest. We do all the labour whether it's in the basement, in your back yard, or on the 50th floor. It's that simple.
Fast and Efficient
The size of our trucks is what helps keep our services cheap. With our "Lowest-Price Guarantee" rule, it is pretty much impossible to beat the affordable rates we aim to supply. Moreover, we also offer same-day and off-hours service, including weekends, to suit the rigidity of your schedule. Our team of professionals are also fast and efficient in order to minimize the amount of disruption in your personal or corporate environment. Speaking of environment, our recycling plan ensures that as little of your garbage goes directly to landfills and as much of it as possible is reused or recycled in some way. Environmental stability is something we take seriously at 1-888-I AM JUNK and this is why we enforce a strong green policy in our disposal work. As a business that is fully insured, we will go the extra length to remove your junk, no matter where it is located and we clean up after ourselves thoroughly so that your home or business is no longer soiled with the garbage you should so desperately want removed.
We Do It All
Along with garbage removal in Toronto and the GTA, we also deal with all services that are non-hazardous. This includes junk removal, furniture and appliances removal, electronics to yard debris and waste disposal. If you would like to learn about the other great disposal support we provide, feel free to look over our services page.
To get an idea of the amount of garbage and rubbish we can remove. Learn about our pricing. If we sound like the business for you, then what are you waiting for? Call us now at 1-888-I AM JUNK or reach us via our contact page and book an appointment today! We are the providers of junk removal in Toronto that will get the job done rapidly and adequately!
I AM JUNK REMOVAL WAY:
Guaranteed best prices 30% to 50% less than our competitor Uniformed, trained and licensed junk removal professionals executing safe and thorough clearance. We arrive on time, ready to do all the lifting, loading, hauling and disposal. Our services are available in the GTA, Brampton, Mississauga, North York, Richmond Hill, Markham &
other areas.
We'll pickup almost anything and offer
1/6
,
1/4
,
1/2
,
3/4
and
full truck
load prices. We can provide junk disposal, waste removal, furniture disposal, appliances removal, construction materials pick up, trash removal & more. We do all the loading wherever the job may be.